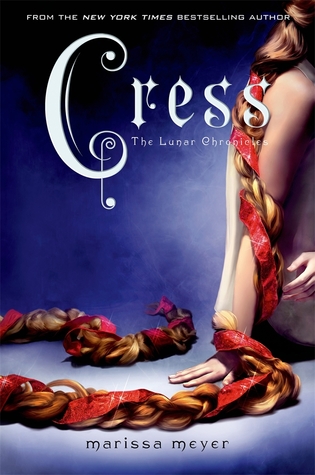 BOOK REVIEW: Cress (The Lunar Chronicles #3)
by Marissa Meyer
Publication date: 6 February 2014
Publisher: Puffin Books
Buy it: Angus & Robertson – Book Depository – Booktopia
Goodreads: In this third book in Marissa Meyer's bestselling Lunar Chronicles series, Cinder and Captain Thorne are fugitives on the run, now with Scarlet and Wolf in tow. Together, they're plotting to overthrow Queen Levana and prevent her army from invading Earth.

Their best hope lies with Cress, a girl trapped on a satellite since childhood who's only ever had her netscreens as company. All that screen time has made Cress an excellent hacker. Unfortunately, she's being forced to work for Queen Levana, and she's just received orders to track down Cinder and her handsome accomplice.

When a daring rescue of Cress goes awry, the group is splintered. Cress finally has her freedom, but it comes at a higher price than she'd ever expected. Meanwhile, Queen Levana will let nothing prevent her marriage to Emperor Kai, especially the cyborg mechanic. Cress, Scarlet, and Cinder may not have signed up to save the world, but they may be the only hope the world has.
---
Wow, wow, wow! Marissa Meyer has really hit the nail on the head this time. I loved Cinder, I enjoyed Scarlet, but oh my god Cress is on a whole different level! The story flowed at a great pace. There was a great mix of action, humour, character development and even seriousness and it was balanced perfectly.
Cress has a distinctly more serious tone than the previous books. Cinder discovers the darker side of using her Lunar powers and Scarlet's having a tough time as a prisoner on Luna. But the seriousness is well balanced with  Thorne and Iko's charm and humour. That dynamic duo could lighten up any situation. We also get glimpses of Winter and I can't wait to read her book because oh man, talk about a teaser.
We're now at what, 6 leading characters? But somehow, there aren't too many cooks. Each character gets their chance to shine in the spotlight. One issue that I had with Scarlet was that there were too many perspectives, but the changing points of view flowed much better this time and each character's story weaves in perfectly with everyone else's.
Cress is the perfect addition to the gang. She's been locked away in a satellite for most of her life so hasn't had the chance to interact with many people. She's socially awkward and a real hopeless romantic. I couldn't think of a better match for her than Thorne. His charm and overconfidence complements how shy and awkward Cress is. I'm not a fan of insta-love but the fact that the characters saw how unrealistic it was that Cress could immediately love Thorne really helped and made it fun to read.
Something else I loved was that, despite being the main character and 'hero' of the series, Cinder isn't portrayed as an invincible hero who can do everything on her own. We see her struggling and needing the help of her friends to overcome the challenges set out to defeat her. It's a refreshing take on the usual "chosen one" trope.
You might call Marissa Meyer the queen of retellings. She's taken these classic fairy tales and given them fresh, new perspectives. With the way she's interwoven all the characters, you can tell she has a master plan for the series finale. If you haven't picked this series up yet DO IT NOW! I'm still kicking myself over the fact that it took me so long to read it.
Rating: ★★★★★
---
Happy reading,
Bloglovin' / Goodreads / Instagram / Tumblr / Twitter