This tag was created by Lucia @ Reading With Lucia. I was tagged by Monique @ That Wild Soul.
---
Covers link to Goodreads.
Chocolate covered pretzels: A book couple you never thought would work/get together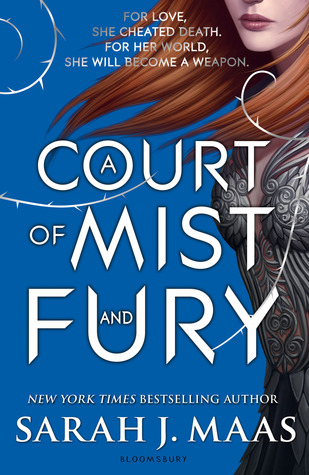 Potential ACOMAF spoiler
Nesta and Cassian are a couple I never knew I wanted. And now that I do have it, I still don't want it. As much as I love Sarah J Maas, it almost feels like she forced this pairing onto us. I imagine Nesta as a strong, independent, take no shit women who doesn't need a man. And yet here she is, with a man (ish).
---
Pringles: An addictive book you can't get enough of
And on the note of Sarah J. Maas, I absolutely loooved Empire of Storms. I couldn't turn the pages fast enough when I read it. It was such a beautifully written novel and a wonderful addition to the Throne of Glass series.
---
Trail mix: A book with a variety of characters
The First Third by Will Kostakis
If you're new to my blog and haven't heard me rave about Will Kostakis yet then you are in for a treat my friend. He always writes such wonderfully diverse and realistic characters. In The First Third we see POC characters, a character with a disability and characters from different social circumstances.
His characters are always diverse, accurate and realistic. Most importantly they never feel forced into the story.
---
Fruit bowls: An unpredictable character
Kestrel from The Winner's Trilogy by Marie Rutkoski.
Kestrel is smart and cunning and she knows how to use her biggest strength, her mind. She's always planning, plotting scheming, doing what she can so that things will go the way she intends for them to.
Kestrel is the perfect example that females don't have to excel physically in order to be a strong character.
---
Nut bar: Your go to book
Harry Potter and the Prisoner of Azkaban by J.K. Rowling
For reasons unknown even to myself Prisoner of Azkaban is, without a doubt, my favourite of the series. It's just always been my favourite of them all.
But if I'm being honest, the whole Harry Potter series is my 'go to'. Nothing beats a good Harry Potter reread marathon.
---
Popcorn: A character you can't help but like
I love Blue and her Raven boys but from the moment I 'met' her, I just knew that Blue Sargent was going to be one of my favourite characters.
What's not to love about a girl with a pink switchblade?
---
I tag
Casey @ Adoptabookaus  –  Danielle @ Books, Vertigo and Tea  –  Megan @ bookslayerReads  –  And you!
---
And don't forget, my One Year Blogiversary Giveaway is still on. There's only a few days left to enter!
---
Happy reading,
Bloglovin' / Goodreads / Instagram / Tumblr / Twitter