If you don't already know, TBReleased is a monthly segment where I compile a bunch of new releases of that month that I'm excited for.
---
Look Past
Eric Devine
Publication date: 4 October
Publisher: Running Press Kids
Goodreads: Someone brutally murdered Mary Mathison, daughter of a prominent and very conservative local pastor. Whoever it was is now taunting Avery, a transgender boy, with disturbing messages, claiming that Mary's murder was revenge for her relationship with Avery. The killer's demands are simple and horrific: Avery must repent for changing his gender identity, or he will be the next one killed.
Can Avery deny who he is to catch Mary's killer? Or will sacrificing himself be the ultimate betrayal?
---
Spare and Found Parts
by Sarah Maria Griffin
Publication date: 4 October
Publisher: Greenwillow Books
Goodreads: Nell Crane has always been an outsider. In a city devastated by an epidemic, where survivors are all missing parts—an arm, a leg, an eye—her father is the famed scientist who created the biomechanical limbs everyone now uses. But Nell is the only one whose mechanical piece is on the inside: her heart. Since the childhood operation, she has ticked. Like a clock, like a bomb. As her community rebuilds, everyone is expected to contribute to the society's good . . . but how can Nell live up to her father's revolutionary idea when she has none of her own?

Then she finds a mannequin hand while salvaging on the beach—the first boy's hand she's ever held—and inspiration strikes. Can Nell build her own companion in a world that fears advanced technology? The deeper she sinks into this plan, the more she learns about her city—and her father, who is hiding secret experiments of his own.
---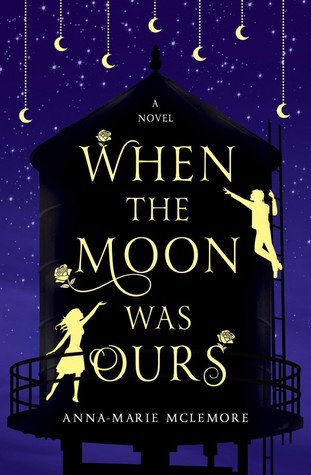 When the Moon was Ours
by Anna-Marie McLemore
Publication date: 4 October
Publisher: Thomas Dunne
Goodreads: When the Moon Was Ours follows two characters through a story that has multicultural elements and magical realism, but also has central LGBT themes—a transgender boy, the best friend he's falling in love with, and both of them deciding how they want to define themselves.

To everyone who knows them, best friends Miel and Sam are as strange as they are inseparable. Roses grow out of Miel's wrist, and rumors say that she spilled out of a water tower when she was five. Sam is known for the moons he paints and hangs in the trees, and for how little anyone knows about his life before he and his mother moved to town.

But as odd as everyone considers Miel and Sam, even they stay away from the Bonner girls, four beautiful sisters rumored to be witches. Now they want the roses that grow from Miel's skin, convinced that their scent can make anyone fall in love. And they're willing to use every secret Miel has fought to protect to make sure she gives them up.
---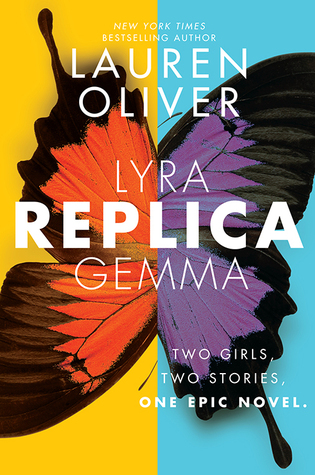 Replica (Replica #1)
by Lauren Oliver
Publication date: 4 October
Publisher: HarperCollins
Goodreads:Gemma has been in and out of hospitals since she was born. 'A sickly child', her lonely life to date has revolved around her home, school and one best friend, Alice. But when she discovers her father's connection to the top secret Haven research facility, currently hitting the headlines and under siege by religious fanatics, Gemma decides to leave the sanctuary she's always known to find the institute and determine what is going on there and why her father's name seems inextricably linked to it.

Amidst the frenzy outside the institute's walls, Lyra – or number 24 as she is known as at Haven – and a fellow experimental subject known only as 72, manage to escape. Encountering a world they never knew existed outside the walls of their secluded upbringing , they meet Gemma and, as they try to understand Haven's purpose together, they uncover some earth-shattering secrets that will change the lives of both girls forever…
---
Bound by Blood and Sand (Untitled Series #1)
by Becky Allen
Publication date: 11 October
Publisher: Delacorte Press
Goodreads: Jae is a slave in a dying desert world.

Once verdant with water from a magical Well, the land is drying up, and no one remembers the magic needed to keep the water flowing. If a new source isn't found soon, the people will perish. Jae doesn't mind, in a way. By law, she is bound by a curse to obey every order given her, no matter how vile. At least in death, she'll be free.

Elan's family rules the fading realm. He comes to the estate where Jae works, searching for the hidden magic needed to replenish the Well, but it's Jae who finds it, and she who must wield it. Desperate to save his realm, Elan begs her to use it to locate the Well.

But why would a slave—abused, beaten, and treated as less than human—want to save the system that shackles her? Jae would rather see the world burn.

Though revenge clouds her vision, she agrees to help if the realm's slaves are freed. Then Elan's father arrives. The ruler's cruelty knows no limits. He is determined that the class system will not change—and that Jae will remain a slave forever.
---
Speed of Life
by J.M. Kelly
Publication date: 11 October
Publisher: HMH Books for Young Readers
Goodreads: Twins Crystal and Amber have the same goal: to be the first in their family to graduate high school and make something of their lives. When one gets pregnant during their junior year, they promise to raise the baby together. It's not easy, but between their after-school jobs, they're scraping by.

Crystal's grades catch the attention of the new guidance counselor, who tells her about a college that offers a degree in automotive restoration, perfect for the car buff she is. When she secretly applies—and gets in—new opportunities threaten their once-certain plans, and Crystal must make a choice: follow her dreams or stay behind and honor the promise she made to her sister.
---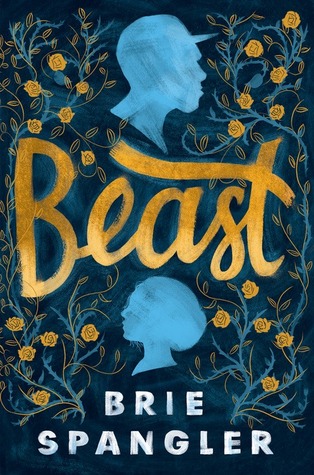 Beast
by Brie Spangler
Publication date: 11 October
Publisher: Knopf Books for Young Readers
Goodreads: Tall, meaty, muscle-bound, and hairier than most throw rugs, Dylan doesn't look like your average fifteen-year-old, so, naturally, high school has not been kind to him. To make matters worse, on the day his school bans hats (his preferred camouflage), Dylan goes up on his roof only to fall and wake up in the hospital with a broken leg—and a mandate to attend group therapy for self-harmers.

Dylan vows to say nothing and zones out at therapy—until he meets Jamie. She's funny, smart, and so stunning, even his womanizing best friend, JP, would be jealous. She's also the first person to ever call Dylan out on his self-pitying and superficiality. As Jamie's humanity and wisdom begin to rub off on Dylan, they become more than just friends. But there is something Dylan doesn't know about Jamie, something she shared with the group the day he wasn't listening. Something that shouldn't change a thing. She is who she's always been—an amazing photographer and devoted friend, who also happens to be transgender. But will Dylan see it that way?
---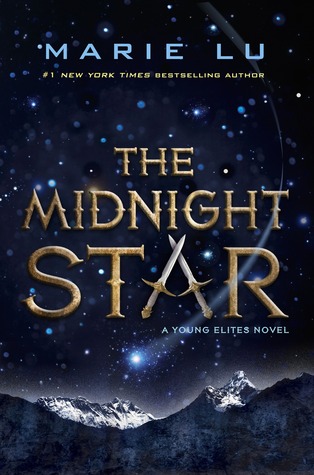 The Midnight Star (The Young Elites #3)
by Marie Lu
Publication date: 13 October
Publisher: Penguin Books
Goodreads: There was once a time when darkness shrouded the world, and the darkness had a queen.

Adelina Amouteru is done suffering. She's turned her back on those who have betrayed her and achieved the ultimate revenge: victory. Her reign as the White Wolf has been a triumphant one, but the darkness within her has begun to spiral out of control, threatening to destroy everything.

When a new danger appears, Adelina must join the Daggers on a perilous quest in order to save herself and preserve her empire. But this uneasy alliance may prove to be the real danger…
---
Gemina (The Illuminae Files #2)
by Amie Kaufman & Jay Kristoff
Publication date: 18 October
Publisher: Allen & Unwin
Goodreads:Moving to a space station at the edge of the galaxy was always going to be the death of Hanna's social life. Nobody said it might actually get her killed.

The sci-fi saga that began with the breakout bestseller Illuminae continues on board the Jump Station Heimdall, where two new characters will confront the next wave of the BeiTech assault.

Hanna is the station captain's pampered daughter; Nik the reluctant member of a notorious crime family. But while the pair are struggling with the realities of life aboard the galaxy's most boring space station, little do they know that Kady Grant and the Hypatia are headed right toward Heimdall, carrying news of the Kerenza invasion.

When an elite BeiTech strike team invades the station, Hanna and Nik are thrown together to defend their home. But alien predators are picking off the station residents one by one, and a malfunction in the station's wormhole means the space-time continuum might be ripped in two before dinner. Soon Hanna and Nik aren't just fighting for their own survival; the fate of everyone on the Hypatia—and possibly the known universe—is in their hands.

But relax. They've totally got this. They hope.

Once again told through a compelling dossier of emails, IMs, classified files, transcripts, and schematics, Gemina raises the stakes of the Illuminae Files, hurling readers into an enthralling new story that will leave them breathless.
Allen & Unwin's website lists the publication date as November but Booktopia has October so I've written the earliest release date.
---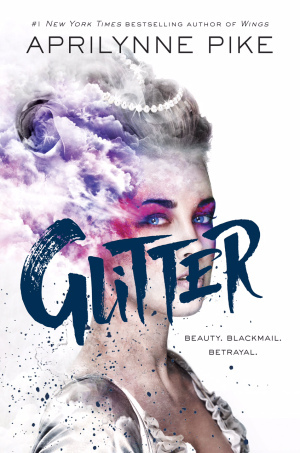 Glitter
by Aprilynne Pike
Publication date: 25 October
Publisher: Random House Books for Young Readers
Goodreads: From #1 New York Times bestselling author Aprilynne Pike comes a truly original new novel—Breaking Bad meets Marie Antoinette in a near-future world where the residents of Versailles live like it's the eighteenth century and an almost-queen turns to drug dealing to save her own life.

Outside the palace of Versailles, it's modern day. Inside, the people dress, eat, and act like it's the eighteenth century—with the added bonus of technology to make court life lavish, privileged, and frivolous. The palace has every indulgence, but for one pretty young thing, it's about to become a very beautiful prison.
When Danica witnesses an act of murder by the young king, her mother makes a cruel power play… blackmailing the king into making Dani his queen. When she turns eighteen, Dani will marry the most ruthless and dangerous man of the court. She has six months to escape her terrifying destiny. Six months to raise enough money to disappear into the real world beyond the palace gates.
Her ticket out? Glitter. A drug so powerful that a tiny pinch mixed into a pot of rouge or lip gloss can make the wearer hopelessly addicted. Addicted to a drug Dani can sell for more money than she ever dreamed.
But in Versailles, secrets are impossible to keep. And the most dangerous secret—falling for a drug dealer outside the palace walls—is one risk she has to take.
---
Of all these books, the one I'm most excited for is Gemina. I've been waiting all year and it's (almost) finally here.
What are some of your most anticipated October books?
---
Happy reading,
Bloglovin' / Goodreads / Instagram / Tumblr / Twitter