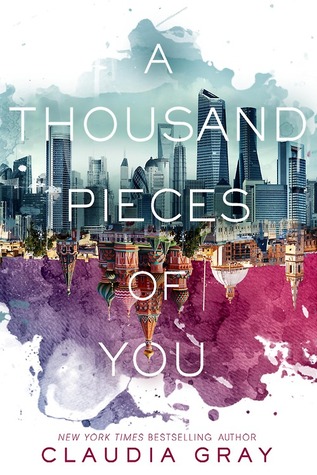 BOOK REVIEW: A Thousand Pieces of You (Firebird #1)
by Claudia Gray
Publication date: 7 October 2014
Publisher: HarperTeen
Goodreads: Cloud Atlas meets Orphan Black in this epic dimension-bending trilogy by New York Times bestselling author Claudia Gray about a girl who must chase her father's killer through multiple dimensions.

Marguerite Caine's physicist parents are known for their groundbreaking achievements. Their most astonishing invention, called the Firebird, allows users to jump into multiple universes—and promises to revolutionize science forever. But then Marguerite's father is murdered, and the killer—her parent's handsome, enigmatic assistant Paul— escapes into another dimension before the law can touch him.

Marguerite refuses to let the man who destroyed her family go free. So she races after Paul through different universes, always leaping into another version of herself. But she also meets alternate versions of the people she knows—including Paul, whose life entangles with hers in increasingly familiar ways. Before long she begins to question Paul's guilt—as well as her own heart. And soon she discovers the truth behind her father's death is far more sinister than she expected.

A Thousand Pieces of You explores an amazingly intricate multi-universe where fate is unavoidable, the truth elusive, and love the greatest mystery of all.
---
A Thousand Pieces of You is my first Claudia Gray novel (you heard me right, I never read the Evernight series) and I'm somewhat intrigued.
I loved the dimension travel aspect. In fact, it's what made me want to read A Thousand Pieces of You. I found it well written and despite all the science talk that was involved (which I didn't completely understand) it didn't overwhelm the story. One of my favourites was the Russian dimension. It was just filled with such rich Russian culture and was so exciting to read.
The biggest let down for me were the main characters. Marguerite was a text book example of a damsel in distress. She needed constant rescuing and couldn't seem to get herself out of trouble. She was constantly turning to Paul and Theo for help. I didn't feel a connection between Marguerite, Paul and Theo either. I think that Gray could have spent some more time developing the relationships between them all. Oh and let's not forget the love triangle! When will the horror end because my god, Marguerite just cannot make up her mind, constantly switching from Paul to Theo, trying to decide who she loves. And both love interests were very generic—one is dark and brooding and the other is outgoing and easy to like. But at least it wasn't insta-love. They all grew up around each other so their relationships grew naturally.
Family played a major part in the book. One of my favourite things was the relationship that Marguerite had with her dad in each dimension. They were heart warming and there's nothing I enjoy more than a good father/daughter relationship, which we don't see very often in pop culture.
I liked Gray's writing. It flowed well and was easy to read. I'm hoping that I'll enjoy Ten Thousand Skies Above You a lot more, so fingers crossed!
Rating: ★★★☆☆
Buy it from: Book Depository – Booktopia