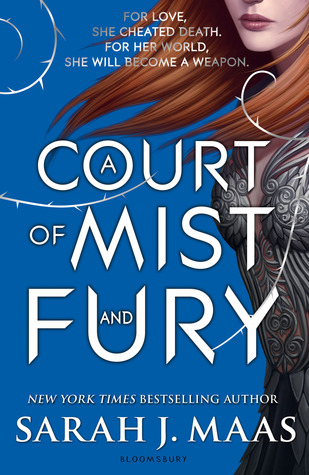 BOOK REVIEW: A Court of Mist and Fury (A Court of Thorns and Roses #2)
by Sarah J. Maas
Publication date: 3 May 2016
Publisher: Bloomsbury Children's
Goodreads: Feyre is immortal.

After rescuing her lover Tamlin from a wicked Faerie Queen, she returns to the Spring Court possessing the powers of the High Fae. But Feyre cannot forget the terrible deeds she performed to save Tamlin's people – nor the bargain she made with Rhysand, High Lord of the feared Night Court.

As Feyre is drawn ever deeper into Rhysand's dark web of politics and passion, war is looming and an evil far greater than any queen threatens to destroy everything Feyre has fought for. She must confront her past, embrace her gifts and decide her fate.

She must surrender her heart to heal a world torn in two.
---
Warning: there may be minor spoilers so read at your own discretion (I don't often have spoilers in my reviews but it was really hard this time!)
WHERE DO I EVEN START?! I loved A Court of Mist and Fury so much! I keep trying to start this review and stopping because I can't find the words to properly express the love I have for this book.
Maas's world building is once again flawless. We're finally introduced to the Night Court and the detail and description is amazing. And it's not just the Night Court that we're introduced to but some of the other courts as well. There is such a change from ACOTAR where our scenery was so limited to Tamlin's estate and Under the Mountain. We're now travelling all over Prythian.
There was so much character development in this book. Feyre's growth in particular was phenomenal and I really liked her this time. She's learnt to take a stand and defend herself. She's not the same person she was in ACOTAR, literally. She's now a Fae and with that, has gained Fae powers. In ACOTAR, Feyre was weak and starving. Tamlin was able to provide her with shelter and food. But now, she's strong and can protect herself. She no longer needs Tamlin's protection. But Tamlin doesn't understand this and he continues to do what he thinks is best for her. He believes that it's unsafe for her to use her powers. He refuses to let Feyre leave the Spring Court, keeping her confined to his estate and ignoring her needs. Feyre is finally able to acknowledge that Tamlin's behaviour has been abusive and she leaves him.
Rhysand becomes a completely different character to what we saw of him in ACOTAR. We learn his backstory and the reasons for why he does the things that he does. Beneath his dark and cruel exterior, Rhysand is truly selfless—he is willing to do whatever it takes to protect his people.
There's no love triangle with Feyre, Rhysand and Tamlin. Instead, Maas does a great job of portraying romance and growth in the real world. We're always growing as people and our needs and desires change with us, even romantically. Before Under the Mountain, Tamlin was exactly what Feyre needed. But now she's stronger and capable of holding her own. Tamlin's love smothers her and the person she's become because he doesn't grow and change with her. Rhysand however, is accepting of what she needs and doesn't stifle her strength. He understands that Feyre is a strong woman and sees her as an equal, not someone that is there to greet his people and see to his needs. The romance between Feyre and Rhysand is realistic and builds over the course of the book. There's no rushing or insta-love, it's a wonderful, wonderful slow-burn. But most importantly, it's a relationship that is loving and consensual.
We're introduced to four new side characters—Amren, Azriel, Castien and Morrigan who are part of Rhysand's Court. Maas does not skimp out on the characterisation and character detailing. They each have their own personalities and backstories to go with them. Feyre's sisters, Nesta and Elaine are also back and they play a huge role in the plot. I love that they're in ACOMAF because they seemed really interesting in ACOTAR, if not the best sisters to Feyre, and it's great to learn more about their characters.
The ending will sweep you away and leave you begging for more. ACOMAF was a fantastic sequel and I can't wait to see what direction Maas takes the story next.
Rating: ★★★★★
Buy it from: Book Depository – Booktopia