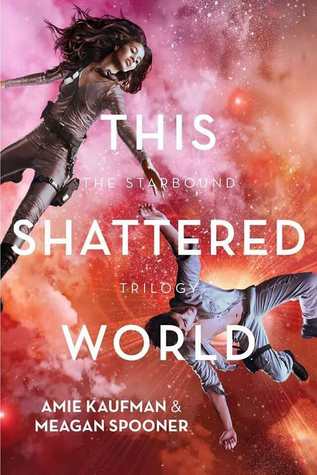 BOOK REVIEW: This Shattered World (Starbound #2)
by Amie Kaufman & Meagan Spooner
Publication date: 19 November 2014
Publisher: Allen and Unwin
Goodreads: The second installment in the epic Starbound trilogy introduces a new pair of star-crossed lovers on two sides of a bloody war.

Jubilee Chase and Flynn Cormac should never have met.

Lee is captain of the forces sent to Avon to crush the terraformed planet's rebellious colonists, but she has her own reasons for hating the insurgents.

Rebellion is in Flynn's blood. Terraforming corporations make their fortune by recruiting colonists to make the inhospitable planets livable, with the promise of a better life for their children. But they never fulfilled their promise on Avon, and decades later, Flynn is leading the rebellion.

Desperate for any advantage in a bloody and unrelentingly war, Flynn does the only thing that makes sense when he and Lee cross paths: he returns to base with her as prisoner. But as his fellow rebels prepare to execute this tough-talking girl with nerves of steel, Flynn makes another choice that will change him forever. He and Lee escape the rebel base together, caught between two sides of a senseless war.

The stunning second novel in the Starbound trilogy is an unforgettable story of love and forgiveness in a world torn apart by war.
---
I was really looking forward to reading This Shattered World because I had loved These Broken Stars so much. Unfortunately, there was just something about it that was stopping me from loving it. This Shattered World had a very strong military vibe, focusing a lot on conspiracy theories which I loved.
Yay diversity! There's quite a bit of diversity and culture in This Shattered World, as you would expect from a book that's set in a far off future where people don't even live on Earth. Jubilee is half Chinese, as is another minor character Molly. And then we have Flynn who is Irish.
Cameos from our favourite star-crossed lovers. Tarver and Lilac both make an appearance in the book although Tarver plays a larger role. He used to serve in the army with Jubilee and was her captain but has since retired to live a quiet life with Lilac. The cameos brought back a fun and comedic element to the book because let's not forget that Tarver's a funny guy.
Speaking of lovers, there isn't too much romance in this book, or not any insta-love at least. Jubilee is a captain of the army and Flynn is a rebel leader. They're destined to hate each other. Especially because the book starts out with Flynn kidnapping Jubilee. However, as you would expect, over time a romantic relationship begins to develop. The romance between Jubilee and Flynn didn't work for me. For whatever reason it just felt a little bit forced.
Are you sure this is YA? Jubilee and Flynn are 18 (I think?) but it was hard to keep track of just how old everyone was because they came across more as adults than they did teenagers. It makes sense if you consider that Jubilee has been in the army since she was 16 and everyone's been through and seen more than your average teenager would. But they still felt a lot more mature than their real ages.
All in all, I enjoyed it but These Broken Stars set such a high standard that unfortunately This Shattered World fell short of.
Rating: ★★★☆☆
Buy it from: Book Depository – Booktopia