Guess who completely forgot to post a TBReleased for last month! 😅 Not even too sure how that happened. But we're back to our monthly updates. And onto the books I'm excited for this month!
---
The Boundless Sublime
by Lili Wilkinson
Publication date: 1 August
Publisher: Allen & Unwin
Goodreads:Ruby Jane Galbraith is empty. Her family has been torn apart and it's all her fault.

The only thing that makes sense to her is Fox – a gentle new friend who is wise, soulful and clever, yet oddly naive about the ways of the world. He understands what she's going through and he offers her a chance to feel peace. Fox belongs to a group called the Institute of the Sublime – and Ruby can't stay away from him. So she is also drawn in to what she too late discovers is a terrifying secretive community that is far from the ideal world she expected.

Can Ruby find the courage to escape? Is there any way she can save Fox too? And is there ever really an escape from the far-reaching influence of the Institute of the Sublime?

A gripping YA novel about an ordinary girl who is unsuspectingly inducted into a secretive modern-day cult.

'A brilliant, searing trip into the world of cults and brainwashing. Her best book yet.' – Justine Larbalestier
---
It's All Fun and Games
by Dave Barrett
Publication date: 2 August
Publisher: Nerdist
Goodreads: When Allison's best friend, TJ, convinces her to come along for an epic game of LARP (live-action role-playing), she reluctantly agrees despite her reservations about the geeky pastime. TJ's weekends are filled with powerful wizardry, mystical creatures, and intense battles with his LARP group. Each adventure is full of surprises, but the goal is always the same: to defeat the monsters and find the treasure.

Not long after their quest begins, the friends discover that something has gone wrong. The fantasy world they've built has transformed, and the battle they're in the midst of is no longer make-believe.

Now they must fight for survival against brigands, kobolds, and other deadly mythical creatures that come to life. Fortunately, the group's once-fictional magical powers have also become real – including Allison's newly acquired gifts as a healer. They'll need everything in their arsenal if they hope to make it home alive.
---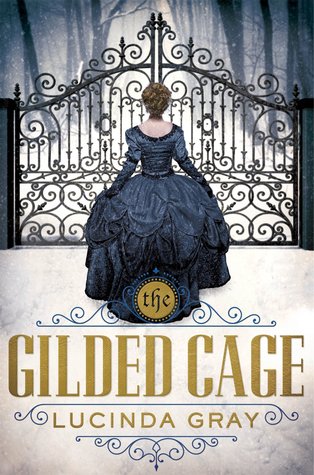 The Gilded Cage
by Lucinda Gray
Publication date: 2 August
Publisher: Henry Holt and Co.
Goodreads: After growing up on a farm in Virginia, Walthingham Hall in England seems like another world to sixteen-year-old Katherine Randolph. Her new life, filled with the splendor of upper-class England in the 1820s, is shattered when her brother mysteriously drowns. Katherine is expected to observe the mourning customs and get on with her life, but she can't accept that her brother's death was an accident.

A bitter poacher prowls the estate, and strange visitors threaten the occupants of the house. There's a rumor, too, that a wild animal stalks the woods of Walthingham. Can Katherine retain her sanity long enough to find out the truth? Or will her brother's killer claim her life, too?
---
The Assassin Game
by Kirsty McKay
Publication date: 2 August
Publisher: Sourcebooks Fire
Goodreads: Who will be left after lights out?

At Cate's isolated boarding school, Killer is more than a game- it's an elite secret society. Members must avoid being "Killed" during a series of thrilling pranks, and only the Game Master knows who the "Killer" is. When Cate's finally invited to join the Assassins' Guild, she know it's her ticket to finally feeling like she belongs.

But when the game becomes all too real, the school threatens to shut it down. Cate will do anything to keep playing and save the Guild. But can she find the real assassin before she's the next target?
---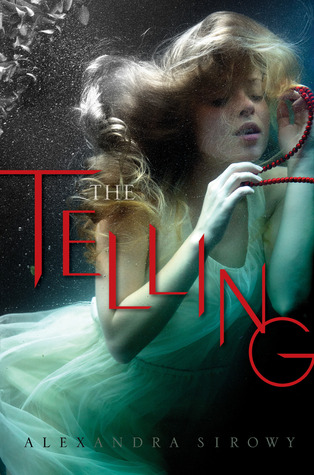 The Telling
by Alexandra Sirowy
Publication date: 2 August
Publisher: Simon & Schuster Books for Young Readers
Goodreads: Lana used to know what was real.

That was before when her life was small and quiet.
Her golden step-brother, Ben, was alive, she could only dream about bonfiring with the populars, their wooded island home was idyllic, she could tell the truth from lies, and Ben's childhood stories were firmly in her imagination.

Then came after.

After has Lana boldly kissing her crush, jumping into the water from too high up, and living with nerve and mischief. But after also has horrors, deaths that only make sense in fairy tales, and terrors from a past Lana thought long forgotten: Love, blood, and murder.
---
All We Have Left
by Wendy Mills
Publication date: 9 August
Publisher: Bloomsbury USA Children's
Goodreads: A haunting and heart-wrenching story of two girls, two time periods, and the one event that changed their lives–and the world–forever.

Interweaving stories from past and present, All We Have Left follows two girls, Alia and Jesse, who discover that hatred and love have the power to reverberate into the future.

Then: Alia is a proud Muslim, even if it makes high school more difficult. Grounded for a stupid mistake, Alia decides to confront her father at his Manhattan office, putting her in danger she never expected. When the planes collide into the Twin Towers, Alia is trapped inside. There she meets a boy who risks everything for her.

Now: Jesse is haunted by the past. Ever since her brother died in the September 11th attacks, her dad's rage and grief has overshadowed their lives. When one hate-fueled decision turns Jesse's life upside down, the only way to make amends is to face the past and find out the truth of her brother's last day.
---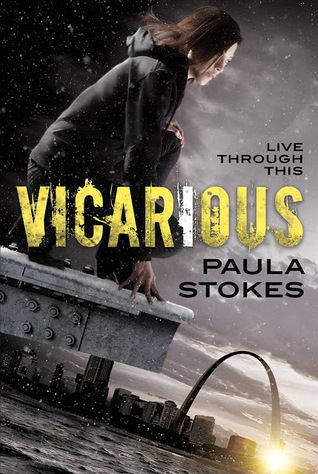 Vicarious (Vicarious #1)
by Paula Stokes
Publication date: 16 August
Publisher: Tor
Goodreads: Winter Kim and her sister, Rose, have always been inseparable. Together, the two of them survived growing up in a Korean orphanage and being trafficked into the United States.

Now they work as digital stunt girls for Rose's ex-boyfriend, Gideon, engaging in dangerous and enticing activities while recording their neural impulses for his Vicarious Sensory Experiences, or ViSEs. Whether it's bungee jumping, shark diving, or grinding up against celebrities at the city's hottest dance clubs, Gideon can make it happen for you, for a price.

When Rose disappears and a ViSE recording of her murder is delivered to Gideon, Winter won't rest until she finds her sister's killer. But when the clues she uncovers conflict with the neural recordings her sister made, Winter isn't sure what to believe. To find out what happened to Rose, she'll have to untangle what's real from what only seems real, risking her life in the process.
---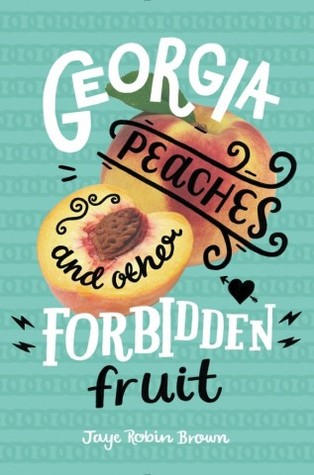 Georgia Peaches and Other Forbidden Fruit
by Jaye Robin Brown
Publication date: 30 August
Publisher: HarperTeen
Goodreads: Joanna Gordon has been out and proud for years, but when her popular radio evangelist father remarries and decides to move all three of them from Atlanta to the more conservative Rome, Georgia, he asks Jo to do the impossible: to lie low for the rest of her senior year. And Jo reluctantly agrees.

Although it is (mostly) much easier for Jo to fit in as a straight girl, things get complicated when she meets Mary Carlson, the oh-so-tempting sister of her new friend at school. But Jo couldn't possibly think of breaking her promise to her dad. Even if she's starting to fall for the girl. Even if there's a chance Mary Carlson might be interested in her, too. Right?
---
Tell Me Something Real
by Calla Devlin
Publication date: 30 August
Publisher: Atheneum Books for Young Readers
Goodreads: Three sisters struggle with the bonds that hold their family together as they face a darkness settling over their lives in this masterfully written debut novel.


There are three beautiful blond Babcock sisters: gorgeous and foul-mouthed Adrienne, observant and shy Vanessa, and the youngest and best-loved, Marie. Their mother is ill with leukemia and the girls spend a lot of time with her at a Mexican clinic across the border from their San Diego home so she can receive alternative treatments.


Vanessa is the middle child, a talented pianist who is trying to hold her family together despite the painful loss that they all know is inevitable. As she and her sisters navigate first loves and college dreams, they are completely unaware that an illness far more insidious than cancer poisons their home. Their world is about to shatter under the weight of an incomprehensible betrayal…
---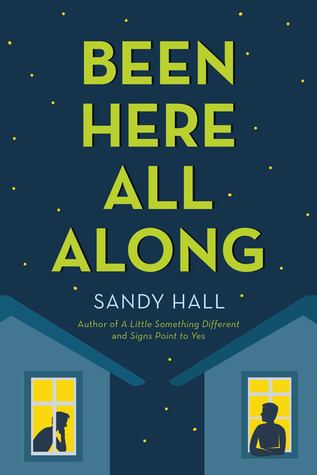 Been Here All Along
by Sandy Hall
Publication date: 30 August
Publisher: Swoon Reads
Goodreads: Gideon always has a plan. His plans include running for class president, becoming head of the yearbook committee, and having his choice of colleges. They do NOT include falling head over heels for his best friend and next door neighbor, Kyle. It's a distraction. It's pointless, as Kyle is already dating the gorgeous and popular head cheerleader, Ruby. And Gideon doesn't know what to do.

Kyle finally feels like he has a handle on life. He has a wonderful girlfriend, a best friend willing to debate the finer points of Lord of the Rings, and social acceptance as captain of the basketball team. Then, both Ruby and Gideon start acting really weird, just as his spot on the team is threatened, and Kyle can't quite figure out what he did wrong…
---
What books are you excited this month?