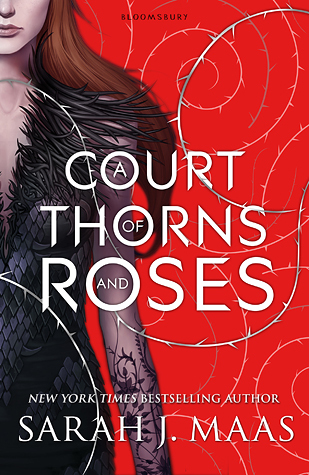 BOOK REVIEW: A Court of Thorns and Roses (A Court of Thorns and Roses #1)
by Sarah J. Maas
Publication date: 5 May 2015
Publisher: Bloomsbury Children's

Goodreads:Feyre is a huntress.

She thinks nothing of slaughtering a wolf to capture its prey. But, like all mortals, she fears what lingers mercilessly beyond the forest. And she will learn that taking the life of a magical creature comes at a high price…

Imprisoned in an enchanted court in her enemy's kingdom, Feyre is free to roam but forbidden to escape. Her captor's body bears the scars of fighting, and his face is always masked – but his piercing stare draws her ever closer. As Feyre's feeling for Tamlin begin to burn through every warning she's been told about his kind, an ancient, wicked shadow grows.

Feyre must find a way to break a spell, or lose her heart forever.
---
This just in: we finally have a Sarah J. Maas book that I didn't fall completely in love with! I know, I'm finding it hard to believe too. I liked ACOTAR but there were just some things that were stopping me from really loving it.
As always, Maas's writing is amazing. Her books are always filled with stunning detail and descriptions but her writing is never flowery. The world building was absolutely amazing. I love the idea of different courts ruling different areas of Prythian but it felt very familiar, especially with a wall to separate the fae and the mortals (A Song of Ice and Fire anyone?). I loved that Maas took the time to develop such a rich world. I also really liked the Beauty and the Beast retelling that Maas presented and I think she handled that very well.
I'm torn about Feyre. I'm not too sure if I love her or hate her—it's maybe 80% love, 20% dislike. She's determined, fierce, fearless and pretty badass. She's also incredibly loyal to her family. However, she falls in love a little too quickly with someone who basically kidnapped her. It's all very Stockholm Syndrome-y. I'm not a fan. And that brings us to Tamlin, the love interest who took Feyre from her home and the High Lord of the Spring Court. Tamlin's supposed to be an incredibly powerful fae but so much of his power is only implied, happening off page so we never truly see what he's capable of.
I didn't buy their relationship. The "romance" just didn't feel right to me. Feyre had to continually justify that she loved Tamlin. He was keeping Feyre captive but he would leave for days at a time and upon his return would try to court her and then leave and the whole cycle would start again. ACOTAR is a New Adult book so things do get sexy and I must say, it was well written. I don't shy away from sex scenes, in fact I embrace them. It probably has something to do with me having read smut and fanfic since I was about 14, so it's just something I've grown up with. So even though I didn't believe the romance, I do think that the more intimate scenes between Feyre and Tamlin were really well written.
Lucien was impossible to hate from the start. He's basically Tamlin's right hand man and completely devoted to serving him. Yay for no love triangle here! Instead he becomes a friend to Feyre while she's in a place where she's alone.
The first half to two thirds of the book are very developmental and all about Feyre falling in love with her captor and learning about the fae. And then Things start happening and I get uncomfortable. There are a lot of problematic elements that could have been handled much better. The issues were never resolved or even addressed so it felt like they were being romanticised, which is never okay. No one calls Tamlin out on his behaviour so it feels like we're meant to think that he's being protective and caring. I get that he's Feyre's captor so he has to uphold some sort of front but he eventually returns her feelings and never apologises for his behaviour. We also get similar problematic behaviour from Rhysand, who we meet around the middle of the book but makes more of an appearance in the final third of the book. It feels like we're supposed to forgive Rhysand because he saves Feyre and helps her through the challenges that she faces Under the Mountain. His actions are "justified" through him helping Feyre.
The final part of the book takes place Under the Mountain and it's action packed and puts you on the edge of your seat. We finally meet the villain of the novel, Amarantha and I loved her as a villain and wish we'd seen more of her. Feyre's talent as a huntress finally come out to play when she has to face a challenge put forth to her by Amarantha.
For trigger warning purposes the book contains issues of manipulation, victim blaming, forced intoxication and non-consensual touching.
Rating: ★★★☆☆
Buy it from: Book Depository – Booktopia