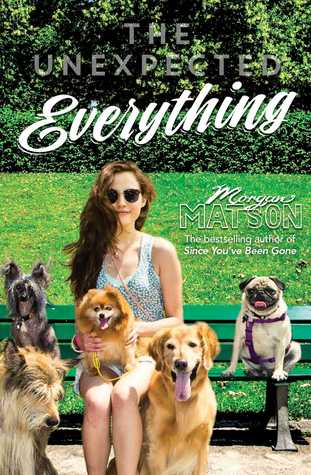 BOOK REVIEW: The Unexpected Everything
by Morgan Matson
Publication date: 5 May 2016
Publisher: Simon & Schuster
Goodreads: From Morgan Matson, the bestselling author of Since You've Been Gone comes a feel-good story of friendship, finding yourself, and all the joys in life that happen while you're busy making other plans.

Andie has a plan. And she always sticks to her plan.

Future? A top-tier medical school.
Dad? Avoid him as much as possible (which isn't that hard considering he's a Congressman and he's never around).
Friends? Palmer, Bri, and Toby—pretty much the most awesome people on the planet, who needs anyone else?
Relationships? No one's worth more than three weeks.

So it's no surprise that Andie's got her summer all planned out too.

Until a political scandal costs Andie her summer pre-med internship, and lands both she and Dad back in the same house together for the first time in years. Suddenly she's doing things that aren't Andie at all—working as a dog walker, doing an epic scavenger hunt with her dad, and maybe, just maybe, letting the super cute Clark get closer than she expected. Palmer, Bri, and Toby tell her to embrace all the chaos, but can she really let go of her control?
---
The Unexpected Everything is my first introduction to Morgan Matson and what a lovely introduction it was! It was a feel good read with some angst and drama thrown in towards the end. I'd talk about how lovely and what a great summer read it is but it's the middle of winter here!
I really need to shine a light on the focus on friendship in this book. Friendship is such a major theme in this book with Andie and her three best friends, Palmer, Bri and Toby. There aren't enough YA novels that stress the importance of female friendship and girls supporting other girls, but Matson really nails this and from what I hear, it's a common theme across all her novels. Sure there's eventually some drama between the girls but hey, it is a contemporary YA novel after all.
There's also a strong focus on the relationship between Andie and her dad. He's a Congressman and so pre-novel he was basically never around but a Thing happens and he ends up being home a lot more than Andie's used to. What follows is a strange development of Andie's dad trying to be a parent, which he hasn't done in years. They have to get used to being in each other's lives a lot more and they end up developing a really great father-daughter friendship which isn't very common. In my experience, fathers aren't there to be your friend. They're there to offer advice and protect you from all the bad in the world. But the friendship and interactions between Andie and her dad are amazing and realistic and even funny.
What's a contemporary YA novel without a love interest? Clark was absolutely adorable. A new favourite YA boy for sure. He's a nerd who's shy but not socially awkward like every other character that you come across in YA these days. The romance played a part in the novel but it definitely wasn't the driving plot line of the book. Andie and Clark's relationship was a slow burn but it was realistic for a girl who's hesitant about relationships and commitment.
The book was definitely way too long. What contemporary (especially a standalone) needs to be 500+ pages?! There were definitely parts throughout that weren't necessary or contributing to the plot in any away and felt more like filler. Some chapters were ridiculously long and just tedious to read. The predictability of the book did not help at all.
All in all it's a great book about friendship and puppies who don't die for once.
Rating: ★★★★☆
Buy it from: Book Depository – Booktopia