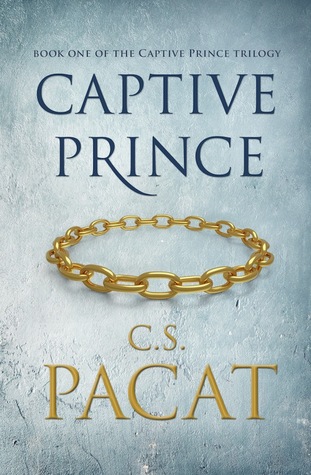 BOOK REVIEW: Captive Prince (Captive Prince #1)
by C.S. Pacat
Publication date: 7 April 2015
Publisher: Viking
Goodreads: Damen is a warrior hero to his people, and the rightful heir to the throne of Akielos, but when his half brother seizes power, Damen is captured, stripped of his identity, and sent to serve the prince of an enemy nation as a pleasure slave.

Beautiful, manipulative and deadly, his new master Prince Laurent epitomises the worst of the decadent court at Vere. But in the lethal web of Veretian politics, nothing is as it seems, and when Damen is caught up in a dangerous play for the throne, he must form an alliance with Laurent to survive and save his country.

For Damen, there is just one rule: he must never reveal his true identity. Because the one man Damen needs is the one man who has more reason to hate him than anyone else . . .
---
I liked Captive Prince. It wasn't a terrible book but I didn't love it. I think because of all the hype around the trilogy my expectations were really high. If I'd gone into the book not knowing anything or having any expectations at all, I probably would've liked it a lot more.
I feel like not very much happened in terms of action, but Pacat did an excellent job of really nailing the characters. The characters are the central focus of the book, no question about it. Especially Damen, probably because we see the story from his perspective (in third person). Pacat really gives you the opportunity to understand her characters and the world that they're living in. Her character and world building are, for lack of a better phrase, on point.
Laurent is a straight up, grade A jerk (trying to keep the language family friendly around here). Pacat also handles Laurent's character really well. There's no instant redemption for the truly horrible things that he's done. Liam @ Hey Ashers! actually brought up something about Laurent in his review that I hadn't realised until I was told. Liam compares Laurent to a grown up Draco and I can totally see it. Laurent had felt almost familiar in a way but I couldn't put my finger on it until I read Liam's review.
While I have nothing but praise for the way she has shaped Captive Prince, I do have to say that I'm not the biggest fan Pacat's writing style. It was just a little poetic in places. Some of the sentence structure just didn't feel right or was uncomfortable to read and in some places the writing felt jarring and ruined the flow of the story, like I had to stop and regain my footing after tripping on an uneven side walk. However, as the book went on I grew used to it and didn't notice it too much by the end.
Captive Prince is definitely not what you would expect when you hear the term "gay romance" because romance it is not. I can see why people would ship Damen and Laurent but there isn't any romance between them at all in this first book. I loved that Pacat wrote it this way because there is no way that Damen and Laurent, who are enemies as well as master and slave, would be able to fall in. It just would not happen. Unless we want to bring in Stockholm Syndrome but even then, it wouldn't be a realistic romance. Captive Prince is an actual slow burn. Laurent and Damen aren't romantically interested in each other even by the end of the first book. I'm interested to see how the romance eventually plays out in the trilogy though.
Just to close off, because I feel like this is something really important for me to say, if you want to read Captive Prince and you're not aware, there are huge rape and abuse (physical and sexual) triggers in the book. And if that's something that is a trigger for you, I'd say stay away from the series because it does form a large part of the culture portrayed in the book so it comes up a fair bit. That's also something that I really struggled with coming to terms with in liking Captive Prince. It felt wrong to like a book that relied so heavily on sexual abuse and rape to fuel a storyline. But I think that Pacat handled it really well and didn't brush the importance of it aside.
Rating: ★★★☆☆
Buy it from: Book Depository – Booktopia