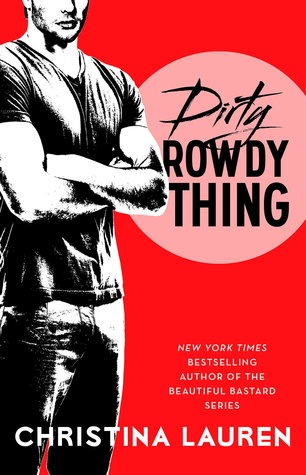 BOOK REVIEW: Dirty Rowdy Thing (Wild Seasons #2)
by Christina Lauren
Publication date: 4 November 2014
Publisher: Gallery Books
Goodreads: From the New York Times best-selling author of Beautiful Bastard, Beautiful Stranger, and Beautiful Player, Book Two of the brand-new Wild Seasons series that started with Sweet Filthy Boy – a story of friends, love, and lust.

Despite their rowdy hookups, Harlow and Finn don't even like each other… which would explain why their marriage lasted only 12 hours. He needs to be in charge and takes whatever he wants. She lives by the Want-something-done? Do-it-yourself mantra. Maybe she's too similar to the rugged fisherman – or just what he needs.
---
I enjoyed this a lot more than I did Sweet Filthy Boy. I found that there was a stronger focus on the development of the relationship between Harlow and Finn, rather than focussing mostly on their sexual relationship.
I think that having the point of views of both Harlow and Finn helped to tell the story much better and it also helped with the flow of the story. It gives you a chance to really understand both characters and their thought processes.
I really liked both Harlow and Finn's characters. However, Finn's in his early 30's and sometimes it can be easy to forget how old he is because his actions can come across as slightly immature. Then you have Harlow who is smart, funny and a very likeable character. Both of them are extremely loyal to their families and doing the right thing, or what they believe is the right thing.
Again, the writing was great. There was enough humour but not so much that the entire book across as a joke. The interaction between characters was also well written. As I said early, there was a good balance between the sex scenes and development of Harlow and Finn's emotional relationship. You get to see them as individuals as well as how they interact with each other on a platonic as well as a more intimate level.
I'm only two books in but so far the series keeps getting better and hopefully it continues to go that way.
Rating: ★★★★☆
Buy it from: Book Depository  –  Booktopia
EDIT: I've since read the rest of the series. If you're interested in seeing reviews on those books leave a comment below!