I just had a look and it turns out I haven't done a book tag in over two weeks. This tag isn't one that I see around very often. I saw Lauren @ Wonderless Reviews do it and it looked like fun so I figured I'd give it a go. You can never have too many book tags right?
---
What was the last book you marked as 'read'?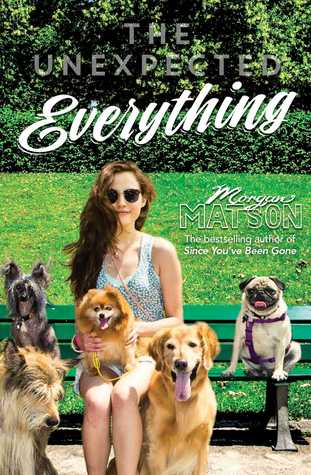 The Unexpected Everything by Morgan Matson
This was my first Morgan Matson book and I loved it! I didn't think it was possible to have so many emotions about a book with dogs on the cover. Especially because they weren't even emotions about the dogs!
I'm also really surprised by the size of the book. I feel like contemporary YAs tend to be around 300 pages sometimes less than that even but The Unexpected Everything and Since You've Been Gone (which I have and am hoping to read soon) are both quite large books. I'm definitely not complaining though because I think The Unexpected Everything was the perfect length for what needed to be told.
---
What are you currently reading?
This Shattered World by Amie Kaufman & Meagan Spooner
I'm only a few chapters in and it's feeling quite slow but hopefully it'll pick up soon. I loved These Broken Stars and I'm hoping this one will be just as good. And of course, let's not forget to mention how absolutely gorgeous the covers of this series are.
---
What was the last book you marked as 'TBR'?
Game Theory by Barry Jonsberg
I found out about this book when I was going through a LoveOzYA list. The blurb is quite short so all I know is that it's about a boy's sister who is kidnapped and he thinks the only way to get her back is by using Game Theory.
After a second look, I'm not too sure if I'm still interested in this book but Goodreads just makes it so easy for us by putting that 'Want to Read' button right there. It's both a gift and a curse.
---
What book do you plan to read next?
I don't plan ahead unless I've been requested to do a review. I currently don't have any so we'll just have to see what I feel like reading.
---
Do you use the star rating system?
Well I do do reviews don't I? I find it so hard to review a book sometimes and will go back and change the rating that I've given it after I've had time to think about everything and written my review.
My average rating is 3.99. I've only given a handful of 2 star ratings and no 1 star rating. Maybe I'm just too lenient or easy to please.
---
Are you doing a Reading Challenge?
I'm really surprised with just how many books I've already read this year, especially because I probably only read about 10 last year. Then again, I was in quite a bit of a reading slump.
I originally had my goal set to 30 books but I ended up changing it to 50 a few months ago because it was clear that I was definitely going to read more than 30 books this year.
---
Do you have a wishlist?
I've got one on Book Depository but that's mostly just a reminder for myself as to what books to buy, not that I stick to it very much 😂
---
What book do you plan to buy next?
I think I'm set on book buying for awhile because I got a whole bunch of new books just last month and want to make my way through most of my newly replenished TBR pile before I go adding to it.
I did buy The First Third by Will Kostakis last week though.
Story time: there's an amazing book store in Avalon called Beachside Bookshop that specialises in YA. It's a small store but it's adorable (there's a window bench!) and the staff is amazing. If you're ever in Sydney, make the time and trek it up to the Northern Beaches because it is well worth the journey. Back to the story, so like I mentioned, I was in the store last week and bought The First Third, and as I was standing there chatting with the staff member and waiting to pay, she actually recognised me from the first and only other time I'd been in the store. She even remembered what book I bought! If that's not amazing customer service then I don't know what is. So like I said, the staff there is great and super friendly and you should definitely check it out if you're in Sydney. They  have a website if you can't make it out to Avalon.
---
Do you have any favourite quotes, would you like to share a few?
Oh man, I'm gonna have to skip this one.
---
Who are your favourite authors?
My favourites change all the time but at the moment I'm loving Will Kostakis, Sarah J. Maas and Maggie Stiefvater.
---
Have you joined any groups?
Just one YA group for Australian bloggers and readers.
---
What do you think that Goodreads could do better?
HALF 👏 STAR 👏 RATINGS👏
---
I tag
Anyone who wants to do this because I am terrible and never know who to tag in things.
---
Oh and feel free to add me on Goodreads!