I'm not a fan of musicals. They've never been my thing. But then, sometime last November, I looked up this 'Hamilton' musical that everyone was raving about on Tumblr. I have never been the same (it's a Hamilton reference). I'm pretty sure the Original Broadway Cast Recording was the only thing I listened to for three or four months straight. Some might say that I'm slightly obsessed. If you haven't listened to it yet, go check it out now! It's free on Spotify.
I've seen this tag floating around on here and Tumblr so I figured I'd give it a go. This tag was originally created by maureenkeavy on YouTube.
Click covers for Goodreads, song titles for Spotify. I'll also be making little sidenotes to talk about the songs because I can't help myself apparently.

The Chronicles of Narnia by C.S. Lewis
My first thought for this was the Harry Potter world but I feel like that would be everyone's answer so I wanted to go with something else. Don't get me wrong I'd love to go to Hogwarts and everything but let's be real, that's not the only cool book world out there.
I loved The Chronicles of Narnia as a kid so I think getting to live in Narnia (minus the wars) would be pretty cool.
---
Sansa Stark from A Song of Ice and Fire by George R.R. Martin
I love Sansa so much. Her character has developed so much and she's come so far. She either gets crapped on or just completely ignored. We're speaking strictly books though. Do not get me started on how much I hate the direction that the show has taken.
Sidenote: The Schuyler Sisters is one of my favourite Hamilton songs and this video  is something you all need in your lives, Hamilton fan or not. Of course, being a Hamilton fan means that it will make more sense. Also, any song that has a Schuyler sister automatically makes it one of my favourites.
---
My Shot: A character that goes after what they want and doesn't let anything stop them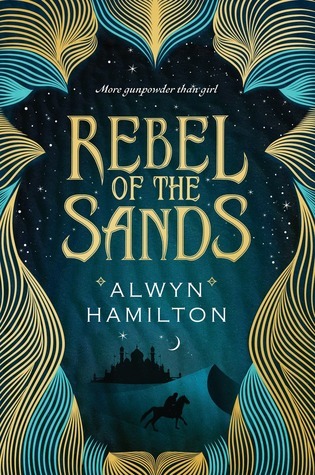 Amani from Rebel of the Sands by Alwyn Hamilton
I love Amani because she knows what she wants and she goes for it. It's still a newish book though so I won't say anything more in case any of you haven't read it yet. In which case, SHAME ON YOU! I'm joking, I'm the last person who should be shaming people for not having read a book yet, especially a new release because I'm so behind on those. It's a fantastic book and you should read it as soon as you can.
I also just realised, Amani's a sharpshooter, the song for the prompt is 'My Shot'. And the song's not actually about shooting but that's not the point. Just let me have this moment, okay?
---
Stay Alive: A character you wish was still alive
SPOILER
*****
Sirius Black from Harry Potter by J.K. Rowling
There were some emotions when Sirius died in Order of the Phoenix. And then I had to relive them when I watched the movie.
I demand a Marauders anything to make up for this death. And all the other unnecessary ones.
*****
END SPOILER
---
The Darkling from The Grisha Trilogy by Leigh Bardugo
The Darkling didn't feel like a typical villain for me and he's probably one of my favourite book villains.
---
Burn: The most heartbreaking end to a relationship you've ever read
SPOILER. MAYBE?
*****
Darrow and Eo in Red Rising by Pierce Brown
It happens pretty early on in the book so I don't know if you could call it a spoiler?
They didn't break up, but their relationship ended when Eo was hung and Darrow had to pull her legs in order to snap her neck so that she wouldn't suffer. Could you imagine basically ending the life of someone you love? That would've seriously messed Darrow up.
*****
END MAYBE SPOILER
Sidenote: This song is straight up emotions. It hurts. The lyrics and Phillipa Soo's voice will bring you to tears. Go listen to it immediately.
---
The Reynolds Pamphlet: A book with a twist that you didn't see coming
Golden Son by Pierce Brown
I really didn't want to use a book/series more than once in this tag but Golden Son was the first book that came to mind for this prompt. No spoilers but I'll just  say that the twists would. Not. Stop coming in this book. You think you've figured out what someone's up to and BAM you're wrong.
I haven't written a review for it yet because I'm lazy but there'll be one coming out soon/eventually.
---
Non-Stop: A series you marathoned
The Selection by Kiera Cass
I read this series in about a week and it very quickly became a favourite. I still need to get The Crown. I can't wait to see how it all ends.
---
Satisfied: Favourite book with multiple POVs
Illuminae by Amie Kaufman & Jay Kristoff
I feel like Illuminae is the ultimate multi-POV book. There were just so many "perspectives" and it was such an amazingly written book and I love it so much and what even are words when I talk about this book. If you haven't read it yet, WHY?!
Sidenote: This is a song is told from Angelica's perspective and she's the eldest Schuyler sister. In the previous song, Helpless, they meet Alexander Hamilton at a ball. It's told from Eliza's point of view and she and Alexander fall in love pretty much at first sight. In Satisfied we learn that Angelica spoke to Hamilton first and she had to give him up because he's poor and because she's the eldest daughter she basically has to marry rich. DOESN'T THAT JUST TEAR AT YOUR HEART STRINGS?!
---
Harry Potter by J.K. Rowling
Whoops, another repeated series. But I mean, whether you love it or you hate it, you definitely know about the Harry Potter books (and the movies). The Harry Potter generation is so big and it's going to be a series that we'll be passing down to our kids.
---
BONUS QUESTIONS:
Helpless: A relationship you were pulling for from the very start
Simon and Blue from Simon vs. the Homo Sapiens Agenda by Becky Albertalli
A large part of Simon and Blue's relationship is through email and Simon doesn't know who Blue is, but their interactions are adorable and you just want them to be together. It's like that meme of someone pushing two people together and saying "now kiss". And then you finally find out who Blue is and you want them to be together even more and thEY'RE JUST SO CUTE. Just talking about it is making me want to do a reread.
Sidenote: Oh look, it's a song I mentioned earlier because I love sidenotes and this musical so much.
---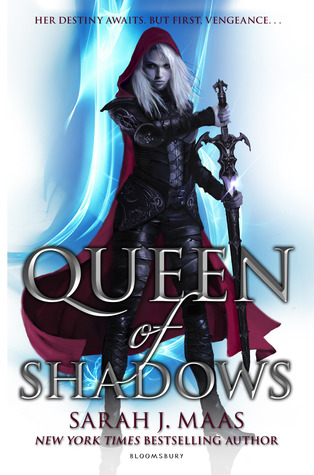 Queen of Shadows by Sarah J. Maas
I am all about epic one on one girl battles because why shouldn't we have intense one on one fights just like all the boys do.
So be still my beating heart, because Sarah J. Maas (the flawless queen that she is) wrote in the most intense and epic girl fight of all time. In QoS we get a super intense fight scene between Celaena (Aelin? What do we even call her now? That girl has about 50 names at this point) and Manon.
Who saw the covers for Empire of Storm? Aren't they just perfect?!
---
I don't really feel guilty for reading any books so it's gonna have to be a hard pass on this prompt.
Sidenote: I do want to say something about the song for this prompt though. Jasmine Cephas-Jones who plays Mariah Reynolds (as well as Peggy Schuyler) absolutely kills the vocals in this song like oh my god her voice is just, so good. It's times like these where I wish I was a booktuber so that you could watch me gesturing and making facial expressions because I don't have the words to explain my love for Jasmine's voice.
---
What Comes Next: A series you wish had more books
To All the Boys I've Loved Before by Jenny Han
I'm pretty happy with the length of all the series I've read but I'd love to see a third book in this series. A nice little 'a few years later' when Lara Jean's in college or even post college. Just to see what she's up to and all that.
Funny story, at the time of writing this was very much a duology. And as I was editing, Jenny announced that she's written a THIRD book for the series, Always and Forever, Lara Jean. I am so excited about this. I'm going to leave this as my answer though because dreams really do come true!
---
The Raven Cycle by Maggie Stiefvater
Friendship plays such a big part in TRC and I love all the interactions between Blue and her Raven boys.
---
What'd I Miss: A book or series you were late to reading
Percy Jackson and the Olympians by Rick Riordan
I only read PJO a few years ago, I think it was just before the Sea of Monsters movie came out. I really liked them and I'm hoping I'll have time to read all of Rick Riordan's other series.
---
SURPRISE EXTRA BONUS QUESTION
I thought I'd add an extra question for my favourite song in the whole musical.
Wait For It: Most anticipated release
Gemina by Amie Kaufman & Jay Kristoff
I'm so so so so SO excited Gemina you guys don't even understand. Like I don't even care that I've doubled up on a third series in this tag now. I already talked about how much I loved Illuminae so I'll spare you another bout of feelings.
Okay, now onto the sidenote: did I really make an extra prompt just so I could include this song? Maybe. This song is my absolute favourite. Leslie Odom Jr. absolutely kills the vocals. And the lyrics just hit all the feelings, especially "I am the one thing in life I can control / I am inimitable / I am an original".  Go listen to it. Please. Also, watch this video.
---
This book tag turned into me raving about Hamilton a lot more than I thought it would. I refuse to apologise. It also ended up a lot longer than I intended it to be (because of the raving) and for that I am sorry. It's probably the longest tag post I've ever written.
I'm not sure who here is into Hamilton so if you are, do the tag. Also, follow me on Twitter or my personal Tumblr so I can shout feelings at you.