I was tagged by Lauren @ Wonderless Reviews. You should go check out her post!
I only have 16 books in my TBR pile at the moment which isn't much compared to the rest of the book community.  Most of the books are part of a series so this might be a difficult tag but here goes.
Click covers for Goodreads.
What book have you been unable to finish?
City of Lost Souls by Cassandra Clare
I'm not sure, but I feel like I never finished this book for some reason. I definitely never read the sixth book but I'm pretty sure I never ended up finishing this one. If you asked me now, I wouldn't be able to tell you what it even happens without reading the synopsis. The Mortal Instruments should've ended at City of Glass.
I really liked the series as the books were being released but I don't think I could ever do a reread. I remember trying to read City of Bones just before they released the movie and I couldn't get through more than the first few chapters.
The Shadowhunters TV show on the other hand, I am in love with. It's doing everything right.
---
What book have you yet to read because you just haven't had the time?
Ready Player One by Ernest Cline.
I've heard really good things about this book so I picked it up during one of my hauls. I finally started this a few months ago, got about 20 pages in and then I got distracted by another book. Hopefully I can make some time and get back to it soon though.
Can I just say though, that the writing is pretty small and off putting. I don't know why but I'm pretty particular about font size in books, I don't like them being so big that the person sitting next to me on the train would be able to read along but I don't want the writing to be so small that I have to hold the book right in front of me.
---
What book have you yet to read because it's a sequel?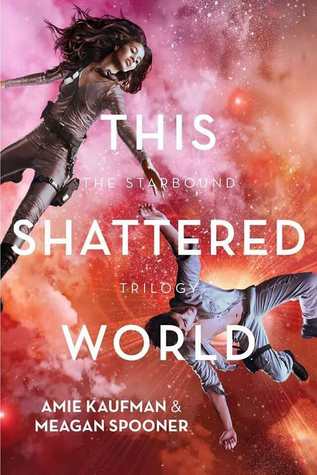 This Shattered World by Amie Kaufman and Meagan Spooner.
I loved These Broken Stars and I just know that I'm gonna love the rest of the trilogy. It's not so much that I haven't read the book because it's a sequel but more because I just have SO many books to read. I say that when I've told you there are only 15 others in my TBR pile hahaha.
The way I'm working through my TBR currently is to read book 1 of the series in the pile and move on to a different series or standalone and then I'll come back to book 2 once I've read all the book 1's of the series in my TBR.
---
What book have you yet to read because it's a new release?
The Winner's Kiss by Marie Rutkoski
The newest releases I have in my TBR are all the final books of their series which I'm still working through.
The most recently released book in my TBR pile is The Winner's Kiss (I think?). I recently won the whole Winner's Trilogy in a giveaway and funnily enough, the mailman dropped the package off as I was writing this post. Talk about good timing.
---
What book have you yet to read because you read a book by the same author and didn't like it?
I can happily say that this book does not exist for me. I'm usually pretty easy to please and will at least somewhat like a book enough to check out the rest of the author's work.
---
What book have you yet to read because you aren't in the mood?
Half-Blood by Jennifer L. Armentrout
I had never heard of the Covenant series or Jennifer L. Armentrout until my friend gave me a copy of this. I feel like it would be a book I'd really enjoy because it's based on Greek mythology and I love mythology. But I just haven't wanted to read it. If I'm being honest, I probably never would've even considered picking it up if I'd never been given a copy.
---
What book have you yet to read because it's humongous?
Winter by Marissa Meyer
This is easily the biggest book in my TBR pile but the only reason I haven't read it is because the only Lunar Chronicles book that I have read is Cinder, which I only read very recently (and loved). My TBR only keeps getting bigger so who knows when I'll finally get to read Winter.
---
What book have you yet to read because it was a cover buy with bad reviews?
This is another one I'm going to have to skip. I don't let reviews influence my choice in books. Being a reviewer myself now, I like to read a book without knowing what other people think because I don't want there to be anything influencing my own review of the book. I do read one or two if someone I follow posts a review on here or tumblr, but I don't go and actively seek a review before I decide to buy the book.
---
Which book on your TBR is the most intimidating to you?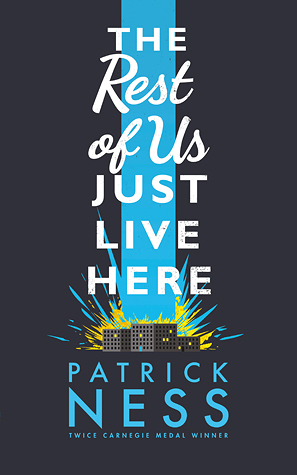 The Rest of Us Just Live Here by Patrick Ness.
I feel like I'm the only person on the planet who hasn't read one of Patrick Ness's books yet. That's right, I've read none of his books. So I'm a little worried that there's a chance I won't like this because it seems that everyone loves his books.
I started reading it a few months ago and never really got around to reading more than the first few pages. It's mostly just because of that struggle of reading a new writer and getting used to their style, not because I didn't like what I'd read. I always find it hard to get into a book when it's an author I've never read before so it'll take some time for me to warm up to this when I finally do read it.
---
I tag
Everyone! (Again) Let me know if you're okay with being tagged in posts, I don't want to get annoying.