I was tagged by Vicky @ Books and Strips. Click on the link to check out her post.
I've been running short on tags lately so imagine my joy when Vicky tagged me to do this really fun one! Can you tell that I'm practically begging to be tagged in book tags?
This one is pretty straightforward, you pick five emojis and you pair them up with a book that represents each emoji. I'm gonna pick from my frequently used emojis just because there are so many emojis now.
Eyes Emoji: A book that made me side eye the author
Harry Potter and the Deathly Hallows by J.K. Rowling
Ummmm can we talk about that epilogue? Of course, I'd rather we pretend that it doesn't exist at all. What were you thinking J.K.? I mean, "Albus Severus"? Really?
I've also been side eyeing quite a few of the choices that J.K. has been making or rather, hasn't been making, since Deathly Hallows. Where is our Marauders era novel/short story/movie/TV series? That would sell so well, am I right? Or even the new generation would be interesting to see.
---
Loudly Crying Face Emoji: A book that made me cry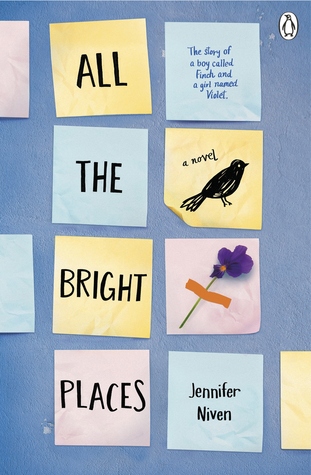 All the Bright Places by Jennifer Niven
While I didn't absolutely love All the Bright Places (you can read my review here. It's probably terrible because it was one of the first reviews I ever wrote), I absolutely did sob like a baby. Man did this book break something inside of me. I'm just so easily to ruin emotionally. But I think the only other books that have made me cry this hard have been The Fault In Our Stars by John Green and The Song of Achilles by Madeline Miller. Like, I was sobbing and having difficulty breathing because EMOTIONS. I was not a pretty sight at all.
---
Sleeping Face Emoji: A book that puts me to sleep
Golden Son (Red Rising #2) by Pierce Brown
I'm reading Golden Son at the moment. Actually, I've been reading it for about two weeks now. That's a week longer than it usually takes me to read a book. I'm about three quarters of the way through and I don't know what it is but I've found most of it quite, I guess boring, to read. Don't get me wrong, there's plenty of action and I like it enough. I just can't seem to focus on it for very long.
---
Smiling Face with Heart Shaped Eyes Emoji: A book with an OTP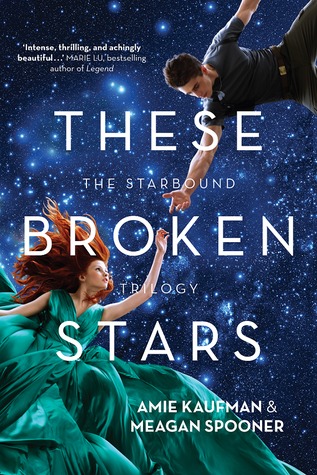 These Broken Stars (Starbound #1) by Amie Kaufman & Meagan Spooner
I loooove Lilac and Tarver. Their relationship just felt so natural and  to me. I'm a sucker for slow burn so the gradual development of their relationship really pulled me in. Also, who doesn't want to go on a space adventure in a gorgeous gown with someone they love?
I do have to say though, Lilac and Tarver's situation was slightly more "life or death" than I would prefer! And the outdoors! Maybe I don't want to experience their relationship after all.
---
Smirking Face Emoji: A book that made me smirk
Summer Skin by Kirsty Eagar
Would I be me if I didn't mention Summer Skin wherever and whenever possible? Oh and don't even try and lie to yourself, you know exactly what the smirking emoji means.
There are only a handful of sexy scenes in Summer Skin but they fit and they're important to the story. Hard to believe right? Without giving away too much for those of you who haven't read it, the sex scenes help with the character developments, as strange as that sounds.
---
I tag
Everyone! This was such a fun tag to do. I usually find it pretty hard to pick a book to fit the prompts in a tag but this one was different because you had to pick your own prompts as well as the books to match them! Definitely give this a go if you're lacking in tags to do.
What books would you have chosen to go with these emojis?