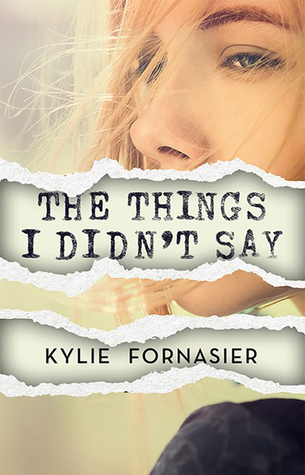 BOOK REVIEW: The Things I Didn't Say
by Kylie Fornasier
Publication date: 2 May 2016
Publisher: Penguin Australia
Goodreads: I hate the label Selective Mutism – as if I choose not to speak, like a child who refuses to eat broccoli. I've used up every dandelion wish since I was ten wishing for the power to speak whenever I want to. I'm starting to wonder if there are enough dandelions.

After losing her best friend that night, Piper Rhodes changes schools, determined that her final year will be different. She will be different. Then she meets West: school captain, star soccer player, the boy everyone talks about. Despite her fear of losing everything all over again, Piper falls in love – and West with her – without Piper ever speaking one word to him. But will it last?
Due for release in May 2016. I picked up a copy at Penguin Teen Australia's YASquad event.
I really enjoyed reading The Things I Didn't Say. It was just so chill and easy to get through. Fornasier's writing is beautiful and it all flowed together really well.
The book might fall into the classic trope of "new girl meets popular boy" but it's so much more than that. As Fornasier describes it, it's a book about a girl who doesn't talk and the boy everyone talks about. The Selective Mutism element just adds a little something extra. It also gives us an insight into the disorder and you can tell that Fornasier really did her research.
Everything felt realistic. It gives such a genuine insight into not just Selective Mutism, but any form of anxiety and I thought Fornasier really nailed it. Some people think anxiety is just something you can push aside and continue on with your day. That it's just all in your head. That's not how it works. You could be tell yourself that whatever you're getting worried about is nothing and you need to push through it but your anxiety will say "no" and there won't be a way to get around it. You can't get past it no matter how much you tell yourself that it'll be okay. In the simplest way I can describe it, anxiety is a giant roadblock with no detours. That being said, everyone's experience with anxiety is different so take what I've said with a grain of salt.
The highlight of the whole book for me was the Australian setting. I loved being able to recognise the places that were mentioned, from the Blue Mountains to Penrith to UTS! There's just something so refreshing and exciting about reading a book with locations that you know and can visualise.
Rating: ★★★★☆
Buy it from: Book Depository – Booktopia