BOOK REVIEW: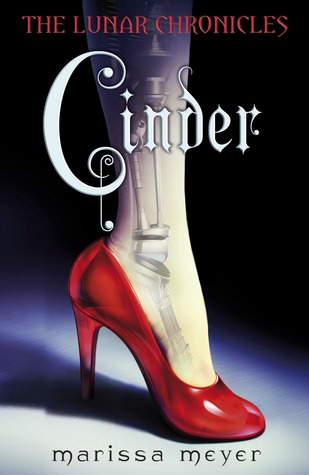 Cinder (The Lunar Chronicles #1)
by Marissa Meyer
Publication date: 5 January 2012
Publisher: Puffin
Goodreads: A forbidden romance.
A deadly plague.
Earth's fate hinges on one girl . . .

CINDER, a gifted mechanic in New Beijing, is also a cyborg. She's reviled by her stepmother and blamed for her stepsister's sudden illness. But when her life becomes entwined with the handsome Prince Kai's, she finds herself at the centre of a violent struggle between the desires of an evil queen – and a dangerous temptation.

Cinder is caught between duty and freedom, loyalty and betrayal. Now she must uncover secrets about her mysterious past in order to protect Earth's future.

This is not the fairytale you remember. But it's one you won't forget.
Let me just say that Cinder really lives up to the hype surrounding The Lunar Chronicles. Meyer offers a very unique retelling of the classic fairytale of Cinderella. It's a well written, highly original first novel to a series of fairytale retellings. I'm keeping this one fairly short because there are already so many rave reviews that basically express how I feel about Cinder.
Even though I found certain plot twists predictable (you know the one I'm talking about), I still found myself gasping when they were revealed.
Cinder is definitely going on my list of favourite female characters. She's driven and knows what she wants. She's intelligent and sarcastic. She knows what her responsibilities are but at times comes across as selfish because she doesn't want to follow through with them. This just adds to the authenticity of her voice as a teenage girl.
Some of the side characters are absolutely loveable. Iko and Peony are adorable and I wish we'd gotten to see more of Peony.
And of course I love Kai. The romance between him and Cinder is subtle enough to be realistic, not any of that insta-love stuff. He's also really growing and coming into his responsibilities.
I loved that the novel offered a very interesting twist on racism. For a reason unknown to the reader, there is a very strong hatred for cyborgs in this futuristic society. Similarly the Lunars have a prejudice against shells, who are Lunars without abilities. This is pretty reflective of not only racism but also ableism and the judgement that people with disabilities are faced with.
Cinder was such a beautiful novel and delivered everything I was hoping for and more. I can't wait to read the rest of The Lunar Chronicles and see how Meyer puts her own twist on the fairytales.
Rating: ★★★★★
Buy it from: Book Depository – Booktopia