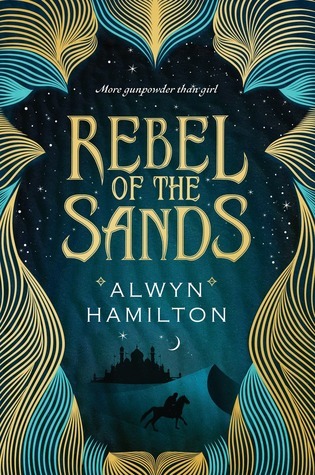 BOOK REVIEW: Rebel of the Sands
by Alwyn Hamilton
Publication date: 4 February 2016
Publisher: Faber & Faber
Goodreads: "Tell me that and we'll go. Right now. Save ourselves and leave this place to burn. Tell me that's how you want your story to go and we'll write it straight across the sand."

Dustwalk is an unforgiving, dead-end town. It's not the place to be poor or orphaned or female. And yet Amani Al'Hiza must call it 'home'.

Amani wants to escape and see the world she's heard about in campfire stories.

Then a foreigner with no name turns up, and with him she has the chance to run.

But the desert plains are full of dangerous magic. The Sultan's army is on the rise and Amani is soon caught at the heart of a fearless rebellion…

An epic story of swirling desert sands, love, magic and revolution.
Where do I even start? I absolutely loved this book! It's the first book of a trilogy but honestly, I loved the way it ended so much that I'd be just as happy if it were a standalone novel.
Hamilton's writing is amazing. It's exciting and engaging, really pulling you in. The pacing was perfect, the world building and characters were incredible and the descriptions were spectacular. I'm running out of adjectives that aren't "amazing" because I have no other words to describe this book. There was a fair bit of detail at times but it all flowed together so well.
I love all of the characters but Amani has to be one of my new favourite characters. I loved her character development, starting out as a girl looking out for herself and growing into something more. She's the tough, fierce, badass female character with a smart mouth we all need in our lives.
The story isn't centred around romance, but the romance that is there is well paced and believable.
Anyone who loved The Wrath and the Dawn, or found that they didn't love it like they thought they would (e.g. me), should definitely give Rebel of the Sands a shot (get it? Because Amani's a sharp shooter).
Rating: ★★★★★
Buy it from: Book Depository – Booktopia